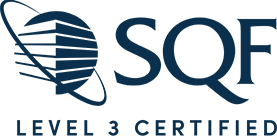 What is SQF Level 3, and Why Does It Matter?
The Safe Quality Food Institute (SQFI) offers SQF Level 3 as the highest distinction in its rigorous food safety and quality program, which is designed to control food quality-related threats in response to increasing consumer scrutiny. The SQF program is the one of the most highly recognized by the Global Food Safety Initiative (GFSI).
The goal of SQFI is to use science-based, proven principles to consistently apply the standards of the food safety and quality program on a global level. As a result, the program is recognized by all facets of the food-processing industry, including producers, suppliers, retailers, and consumers.
In a more practical sense, SQF certification protects the integrity of a brand by delivering proof that the labeled food is safe for consumption. It also ensures that the manufacturer has complied with multiple quality audits and standards.
The SQF Level 3 symbol is the buyer's assurance that a product is continually monitored for quality, safety, and legality, by a respected organization committed to a "one world, one standard" vision. As a result, it virtually guarantees a higher degree of trust and acceptance of your product in the marketplace.
Why SQF Level 3 Matters
This certification is the highest of the three levels offered by the SQFI. Each level builds on the level before it, adding additional requirements. Level 1 is the entry level and addresses issues related to basic food safety, such as Good Agricultural Practices (GAP) and Good Manufacturing Practices (GMP).
Level 2 certification covers HACCP-based Food Safety Plans. It incorporates all of the requirements for Level 1 certification and then adds the requirement of a food safety risk analysis of a product and its associated processes. This is meant to identify any hazards, as well as the actions taken to eliminate, prevent, or reduce their occurrence.
Once Level 2 has been attained, a manufacturer can go a step further to achieve the highest level of certification, the Level 3 Comprehensive Food Safety and Quality Management System. In addition to meeting all of the requirements of Levels 1 and 2, SQF Level 3 certification indicates that in addition to a food quality risk analysis of the product and its associated processes, additional appropriate actions have been taken to prevent the incidence of poor quality.
How Does SQF Level 3 Benefit Your Brand?
When selecting a food-grade manufacturing partner, this level of certification from the food quality and safety program assures that you receive the benefit of producing a higher quality product with the potential to earn long-term customer loyalty and repeat sales.
In addition, there are other advantages of partnering with an SQF Level 3-certified facility, which the SQFI describes as:
• A uniform platform for quality and safety improvement as opposed to multiple, conflicting audit standards
• Reduced material waste and increased yield from more efficient production
• Streamlined risk and process management
• Proactive identification and management of risk to help prevent stock recoveries, market withdrawals, and rework, providing greater peace of mind
What Other Quality Control Practices Should You Seek in a Manufacturing Partner?
In addition to manufacturing SQF Level 3-certified products, a reputable food-grade partner should offer additional quality control measures to meet each customer's expectations. The goal is to ensure that only products meeting all of a customer's set standards are released for distribution.
For example, Innovative Labs takes additional quality assurance steps, such as:
• Reviewing all certification claims the customer stipulates for its formulations
• Verifying that all approved suppliers meet GFSI's stringent requirements
• Inspecting, sampling, and testing ingredients upon arrival to make certain they meet safety and quality requirements and are suitable for the intended use
• Identifying and storing ingredients in a manner that will prevent adulteration, contamination, damage, deterioration, and errors
• Ensuring that all materials approved for purchase meet formulation and labeling requirements
• Supplying finished-product specs that are based on the customer's expectations, as well as safety and quality requirements
• Developing master manufacturing records for each product configuration to make sure safety and quality control points are met
• Inspecting finished products to make certain each batch meets customer expectations and regulatory requirements
• Ensuring the identity, strength, and purity of final products
We've got you covered
Ultimately, Innovative Labs offers QA at every stage of the process—from R&D, through formulation, blending, and production, to the final packaging and logistics. We not only document the final product, but every single ingredient used in its production.

To further assist our customers, we handle all the desired certifications and registrations. We also facilitate the total process of securing, filing, and managing regulatory filings for the following certifications:

• SQF Quality Code
• Gluten Free
• Halal
• Health Canada
• Kosher Certified
• Non-GMO
• NSF
• UDAF
• USDA Organic
• cGMP
If your current food-grade manufacturing partner is unable to meet your certification or quality assurance requirements, we'd welcome the opportunity to discuss how Innovative Labs can help. Feel free to contact us for additional information.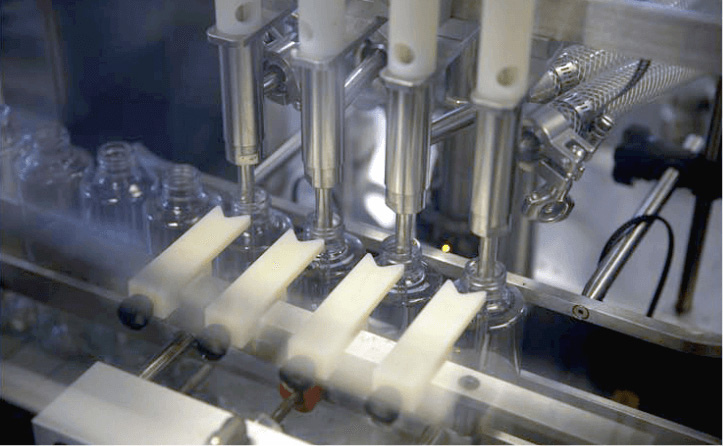 Where Product Safety Meets Product Quality
To assure you receive a quality finished product, we carefully control every step of the production process, from sourcing to formulation, to blending, and properly labeled packaging. Our rigorous, internal quality control processes have earned us consumer-preferred labels such as SQF Level 3 certification (Food Safety and Quality Program).