5 Things to Look for in a Food-Grade Manufacturer
Not all food-grade manufacturers are alike. Some may possess R&D capabilities but lack the scale and scope to quickly bring your product to market. Others may offer the turnkey services you require, while lacking the necessary certifications to give your product a competitive edge.
To help you choose the right food-grade manufacturing partner for your needs, we've outlined five essential criteria to consider when qualifying a potential contract manufacturing facility.
1. Speed to Market
Being the first to market with a particular product or formulation brings unique advantages in the marketplace. Your contract manufacturing partner's ability to quickly respond to your production needs can help return bottom-line results.
Before selecting a food-grade manufacturer, ask how long it will take to move your product from ideation to completion. How quickly can the facility deal with last-minute modifications to formulas, flavors, and packaging? Do they already have the capabilities in place to achieve the required certifications? Or will you be left scrambling at the last minute to produce the necessary documentation?
If your food-grade contract manufacturer is unable to smoothly accommodate adjustments or provide the necessary certification documents, the resulting delays will quickly eat into your profits. A well-qualified partner should be able to bring your products to market within weeks, rather than months.
2. Unique Certifications
Today's consumers read labels. If they're looking for "organic" or "non-GMO" ingredients and your product label doesn't list these certifications, they will quickly move on to the next product.
Quality matters. Narrow the competition for food-grade production down to only those partners who possess the required certifications. And don't forget to make sure the manufacturer can provide any necessary documentation for each individual ingredient, as well as for the final product.
For best-in-class capabilities, your contract manufacturing partner should have achieved SQF Level 3 certification (Food Safety and Quality Program). SQF Level 3 certification is the highest level of food safety certification offered by the Global Food Safety Initiative (GFSI).
Don't settle for less if you want to ensure that it's your product, and not your competitor's, that ends up in the consumer's shopping cart. By choosing a food-grade manufacturer with the right credentials, you'll not only speed up the production process. You'll ensure a quality finished product that consumers will choose time and time again.
3. R&D Capabilities
To be truly valuable, your food-grade manufacturer needs to bring more to the table than simple blending and packaging capabilities. Choose a partner who stays well ahead of the curve on current industry trends. This will make it easier to develop the innovative solutions consumers are currently demanding.
Does a potential partner keep PhDs on staff and maintain connections with major research universities to analyze the latest academic research? Do they have an on-site lab equipment to develop custom formulations? If not, then how can they perfect that breakthrough custom formulation or brilliant, single-serve packaging solution that makes your product the number one choice among consumers?
4. Turnkey Services
Don't settle for a one-trick pony. Unless you have your own in-house capabilities, you'll need a partner who can take a product idea all the way from the drawing board to the final packaging, ready for delivery.
Choose a manufacturing facility with the capabilities and services to take you from concept development, to global sourcing, to prototyping, to pilot testing, and full commercialization. You'll save yourself the headaches of coordinating logistics between multiple vendors and reduce the risk of having things fall through the cracks.
Other helpful capabilities to add to your ideal vendor checklist include:
• UV lights to eliminate surface contaminants
• Liposomal technology for oil-based products
• Secondary packaging options such as dosing caps, droppers, coupons, and POS displays
• Tube-in-tube pasteurization
• Filling for tear-top packets, sachets, or squeeze packs
5. Scale
One of the most important considerations in choosing the right food production vendor is their ability to scale production of your product. Make sure the production facility you select has the available facilities, production lines, and workforce to cost-effectively handle your manufacturing needs now and in the future.
The ideal partner should be able to maximize economies of scale to control costs. Flexibility is the key to efficiently and cost-effectively delivering your product volume.
If a production partner you're considering is unable to meet these five essential criteria, reach out to the experienced professionals at Innovative Labs. We provide the scale, turnkey services, R&D capabilities, unique certifications, and speed to market you need to ensure that your next food-grade project achieves, or exceeds, the sales results you have in mind.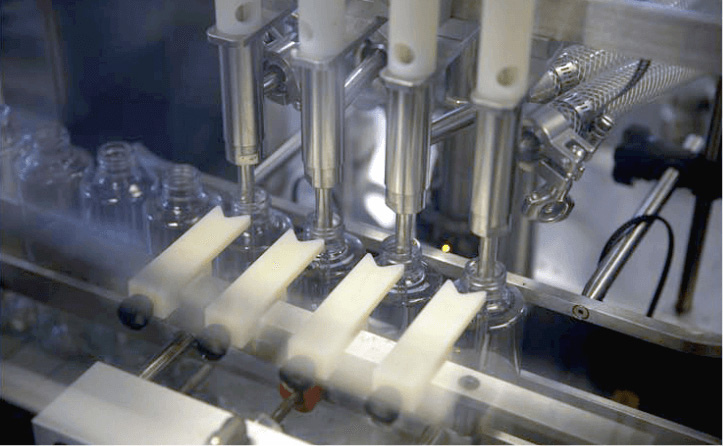 Where Product Safety Meets Product Quality
To assure you receive a quality finished product, we carefully control every step of the production process, from sourcing to formulation, to blending, and properly labeled packaging. Our rigorous, internal quality control processes have earned us consumer-preferred labels such as SQF Level 3 certification (Food Safety and Quality Program).